Rippling his muscles and flashing a toothless grin a former Mr Universe known as the 'Pocket Hercules' celebrates his 100th birthday.
The title pretty much speaks for itself. There is someone out there still competing in bodybuilding competitions at the ripe age of 100. Let that sink in for a moment. Bodybuilding is more than just a sport, it's a lifestyle. It's pretty clear that Manohar Aich has lived his life by that very philosophy. There are many retired amateurs and pros who claim to live a healthy lifestyle, keep training everyday, yet somehow look like they haven't picked up a weight in years. The same can't be said for Manohar who was still living in the gym after passing his prime.
And what has been the key to long life for the super-fit centenarian who has battled poverty, a stint in prison and a minor stroke – not taking life too seriously.
The diminutive Manohar Aich, who is 4ft 11ins tall, overcame many hurdles to achieve his body building glory.
'Pocket Hercules': Former Mr Universe Manohar Aich flexes his muscles as he poses for a photograph on the eve of his 100th birthday in a gymnasium in Kolkata, India
Born in the small town of Comilla in Bengal, he was attracted to exercising and building his muscles when as a schoolboy he saw a group of wrestlers in action.
Manohar discovered weightlifting during his stint in the armed forces, the Royal Air Force to be exact, in the 1940's. His love of the sport didn't even diminish when he was incarcerated for protesting against colonial oppression. While in prison he performed bodyweight exercises since there was a lack of equipment he could use. His dedication saw him make some impressive gains even while being locked up. That determination inspired the prison guards to provide Manohar with the kind of food and diet that would help him train and improve his physical development.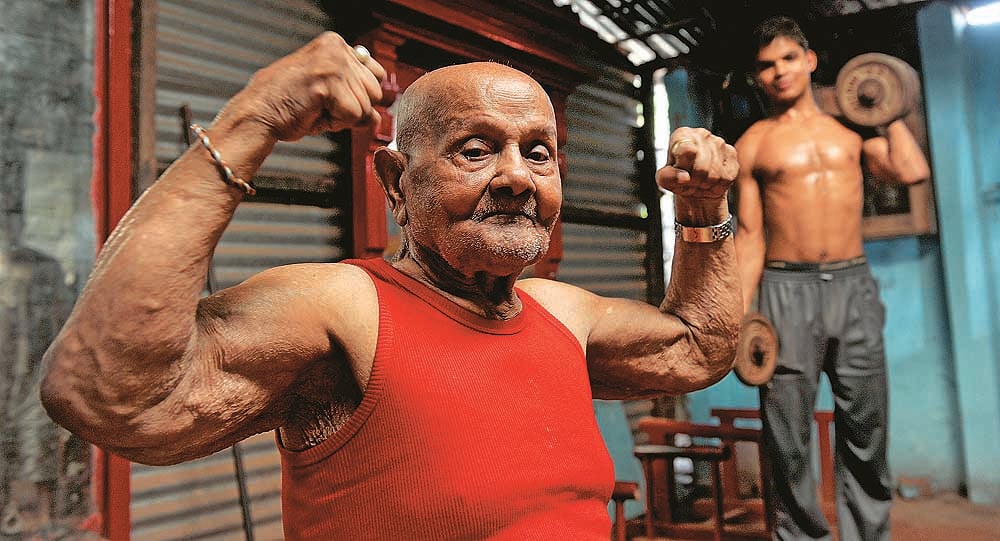 His commitment to bodybuilding ultimately saw him entering bodybuilding competitions in Asia until he finally reached the world stage. After taking second place at the 1951 Mr. Universe, Manohar would return the following year and capture the top spot.
It's clear that the man is dedicated to living the bodybuilding lifestyle and that mindset helped him compete in competitions all the way up to the age of 90. That's a statement that many bodybuilders could never even hope to utter. Manohar could yell his achievements from the rafters and have the photo evidence to prove every single word.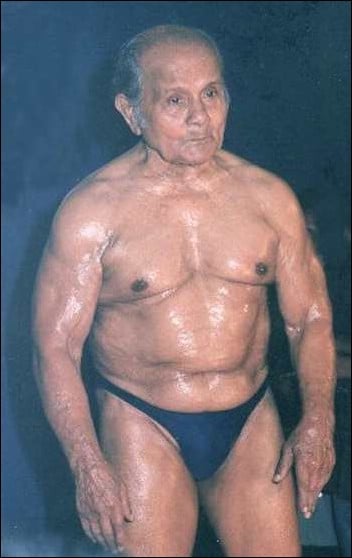 After leaving school in 1942, he joined the Royal air force under India's British colonial rulers and it was there that he began his relentless pursuit of body building.
Encouraged by a British officer named Reub Martin, who introduced him to weight training, Aich earned praise for his physique from his peers in the air force.
Heyday: The muscular Manohar Aich shortly after being crowned as Mr Universe back in 1952
Some years later, however, he was thrown into prison when he protested against colonial oppression.
He said: 'It was in that jail that I began weight training seriously. This helped me prepare myself for the world championship.
'In jail I used to practice on my own, without any equipment, sometimes for 12 hours in a day.'
Now and then: Indian body builder Manohar Aich looks at a print of one of his pictures hanging in a gym, in Kolkata